Search For Help:
Help Index
Hide
Search Results:
Searching...
Sorry, we couldn't find anything, please
get in touch
if you need some assistance.
Search for something...
Type something in the box to see if there's anything that might help you.
What's A Url?
What's A URL and how do I use it?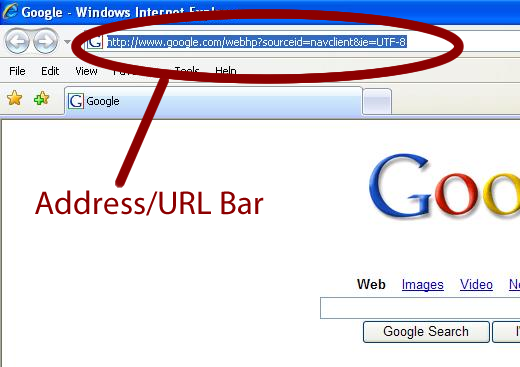 The screenshot above shows the URL bar highlighted (typically where the http://www.google.com and similar addresses are entered). One should enter addresses here to be sure to get the page you want. Entering the URL into a google search may take you to the wrong page (in the worst case it could be a fake page designed to steal your account details).

A URL is the address of a web page, in the same way that a postal address is the address of a person. If you get the address wrong you won't find the page, just as with a postal address, getting it wrong will mean your letter is not delivered. URLs look like this:

http://www.google.com/myPage.html

http means a normal page, https means it's a secure page, for entering things like bank details.
Some pages start www, some don't. If you're trying to visit a page and it doesn't work, sometimes adding or removing the www can help.
The main bit of the domain, typically the name of the company or service you are visiting/using.
.com typically means a site used globally or US-based, while .co.uk means a British company, .org means a charity, etc.
The last bit is the name of a file on the computer (called a server) which is sending you the page.
Be careful to ensure that you are going to the correct address, paying extra attention to the www.google.com bit.
Going To The Wrong URL Can Compromise Your Account
A hacker might set up iressource.com (note the extra s) to trap people who type the URL in incorrectly. They might create what looks like a perfect replica of iResource. If you go there and enter your username and password, the hacker has your password. We go to great lengths to ensure that your data is secure, including ensuring that passwords are encrypted, salted and hashed (so that even we don't know your password), but if you give it away then all that work won't mean a thing. Be careful.
Beware URLs with @ signs in them
If someone sends you a url like http://google.com@fakesite.com you're not going to Google, you're going to fakesite.com. Beware.
Can't Log In?