Search For Help:
Help Index
Hide
Search Results:
Searching...
Sorry, we couldn't find anything, please
get in touch
if you need some assistance.
Search for something...
Type something in the box to see if there's anything that might help you.
Logging In
How To Log In
The normal URL (What's A Url?) to access iResource is https://iresource.com/iresource, please make sure you go to the correct URL and that you see the padlock in the usual place in your browser.
The 'Log-In' page can be accessed from https://iresource.com/iresource/Login.pdo on this site. This is what you'll see when you get there.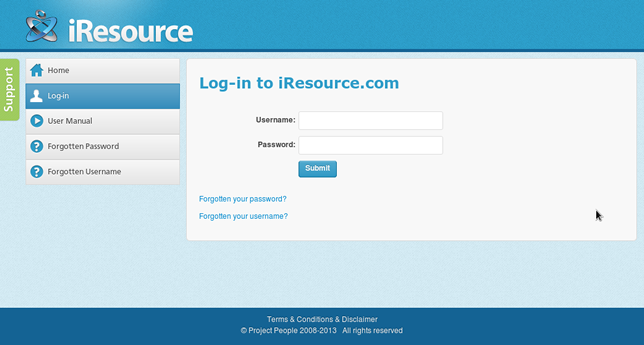 To log in, just enter your username and password and click Submit.
If you can't Log In
If you're struggling, read our guide to getting back into iResource:
Can't Log In? - here you'll find a complete guide to finding your username or resetting your password, or making sure you're on the right URL, or anything else you need to know to get into your iResource account.
Getting Started - Your New Account
Can't Log In?